Offer Seasonal Assistance During Back-to-School and Christmas
Two seasons that become an even greater financial burden on the families we serve: Back-to-School and Winter/Christmas. Both of these programs are referral-based and support mainly families with children. There are already many great events/programs in our community that provide this support, so our focus is on filling the gap with items that are not normally distributed.
Our Back-to-School program provides vetted client families with items of greatest need just before school starts and runs while  supplies last.  We typically include a backpack, athletic shoes, one outfit, socks, and undies.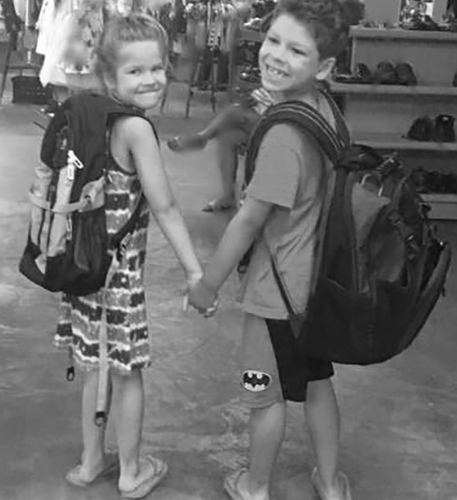 We want to provide the best opportunity for educational success as this is the best way for the next generation to break free from extreme poverty. We always include spiritual materials like Bibles/devotionals to further equip families with the truth found in God's Word.
Our Adopt-A-Family Program at Christmas gives the community an opportunity to multiply our efforts during the most difficult time of year for our clients. With temperatures dropping and the stress of providing a home and an environment to celebrate the Lord's birth, families experiencing crises have so much to deal with that a little extra support proves to be a great way to contribute to the rehabilitative efforts already happening.
We match up sponsor groups with a vetted family to coordinate the gathering effort of the list of critical needs. Sponsor groups can be an individual, family, small business, church group, or ministry. In addition to what we normally distribute, the groups may also provide coats and boots for children, space heaters, beds (if the budget allows), paper goods, cleaning supplies, and gifts for their kids if they are not receiving help from any other program. We also love to give our families a Christmas tree, lights, and ornaments from donated goods.
1 John 3:17 "But if anyone has the world's goods and sees his brother in need, yet closes his heart against him, how does God's love abide in him?"
Donate to give hope and encouragement to local families experiencing crises